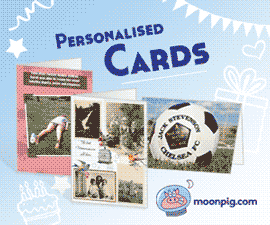 Click Here For Personalised Thank You Cards @Moonpig.com
Wedding Thank You Card Wording – After the Big Day
Wedding thank you card wording isn't tricky. In fact, it's fairly easy with a lot of room to add personal touches.
A tremendous amount of time and effort went into planning the wedding. The last thing you want to do is put in even more work afterward.
The bad news, of course, is that another chore is waiting after the honeymoon. You still have to acknowledge all of those wonderful gifts you received. Writing dozens – or hundreds – of thank-you notes certainly isn't fun. The task may seem even more daunting after remembering all the complicated rules that had to be followed when wording the invitations.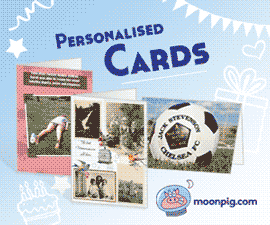 Click Here For Personalised Thank You Cards @Moonpig.com
The Basics
Wedding Thank You Card Wording
Your notes should always include the following elements:
Salutation – This is simply the "Dear Mr. and Mrs. Smith" opening line. If you're friendly with the gift-givers first names are perfectly acceptable, as are family references such as "Dear Aunt Fran and Uncle John." Don't use a shortcut such as "Dear Jones Family" – address each individual by name, or send separate acknowledgements if a present was given jointly by unrelated adults. The names signed on the gift card are usually a good guideline.
Click Here For Great Thank You Cards
So You've Just Received the Best Present Ever, or Perhaps Someone has been So Helpful to You.
Maybe, You Want to Say You Appreciate an Amazing Teacher or the Best Mum in the World.
Whatever You Want to Send Thanks For, One of these Thank You Cards will be Perfect….


Gratitude for Attending – Everyone knows that the purpose of the card is to express gratitude for the present that was given. However, it's proper to first thank the recipient for attending the wedding (or to share regrets, if the person wasn't there). This short line lets them know that their effort to be with you on the wedding day was more important than the gift itself – even if, for some people, that's not actually true.
Specific Mention of the Gift – It's crucial to actually mention the present that was received, to maintain the personal tone of the thank you note. It is appropriate to add a few words about how the gift will be used or how much you are looking forward to using it. If a gift was cash (or a check), don't mention the actual amount but include a line about how the money may be used (for example, toward the down payment on a house, or to help purchase living room furniture). If you didn't like the gift, of course, there's no need to include that little fact.
Personal Thought (if appropriate) – A nice touch is to add a brief line that shows your feelings for the gift-giver. This could be along the lines of "We can't wait to see you next week at Sally's birthday party" or "We hope that you'll be able to visit soon so we can serve dinner on the new china." Some of your guests may have been friends of your parents, or other people you don't know well. In that case, a personal thought isn't necessary; just repeat your appreciation for their thoughtfulness.
Signature – In most cases this will be your first names, such as "Heather and James." If you don't know the givers well, add your last name(s) as well to ensure that they know who the card was from. Family nicknames are also acceptable if the note is being sent to a close relative who would appreciate the familiarity. If appropriate, you can add the word "Love" before the signature; if not, just sign your names.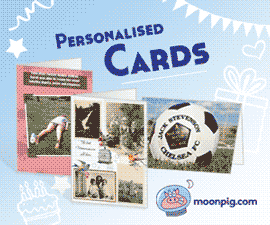 Click Here For Personalised Thank You Cards @Moonpig.com
Samples
Here are a few examples of thank-you note wording you can use as a guideline.
Dear Samantha and Frank,
Thank you so much for being with us on our big day. It wouldn't have been the same if you hadn't been there. And thanks so much for the gorgeous crystal candy dish. It's already filled and on our coffee table. We're looking forward to your visit next summer – see you then!
Emma and Brad
Dear Mr. and Mrs. Johnson,
We were very glad you were able to join us for our wedding. It meant a lot that you took the time to celebrate with us. We also greatly appreciate your generous gift. It's going right into our fund for buying a new car. Again, we were delighted you could join us.
Emma and Brad Hightower
Dear Aunt Sissy, Uncle Ted and Junior,
We were so sorry that you weren't able to be here for our wedding. Of course, we understand the difficulties in traveling cross-country with a new baby – and all of us thought of you often throughout the day. And thank you for the cool velvet painting of a mailbox. It will remind us of you whenever we look at it. Can't wait to meet Junior in person!
Love, Emma and Brad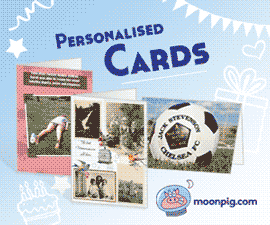 Click Here For Personalised Thank You Cards @Moonpig.com
Other Guidelines
Don't go overboard, but be heartfelt and effusive in your messages. Words or phrases like "delighted," "thrilled," and "so excited" are appropriate in wedding thank you card wording – which is much less formal than on invitations.
"Proper etiquette" actually dictates that you should use stationery. These days, however, gift acknowledgements are almost universally written on printed cards ordered at the same time you choose invitations. Usually only the most formal of families still use ornate stationery.
It's probably obvious, but always hand write your correspondence. Many printers have fonts that may look like handwriting, but it's usually obvious when you've used a computer. Bite the bullet, and buy a couple of nice pens that won't smudge. Similarly, use individual postage stamps on the envelopes rather than doing a mass mailing.
They may be your parents, but if your mother and father paid for the wedding they should receive a card as well. It's also nice to send acknowledgements to the wedding coordinator (if there was one) and any vendors who went above and beyond what would have been expected.
If someone attended the wedding but didn't send a present, they should still receive a card, which would simply thank them for being there on your special day.
Many people believe that the bride and groom have a year after the ceremony in which to send their thank-yous. In reality, the acceptable time frame is three to four months after the celebration. It's even proper to send thanks before the big day if a gift arrives early. Just be sure to say that you're looking forward to seeing them at the wedding, instead of thanking them for attending an event that hasn't even happened yet.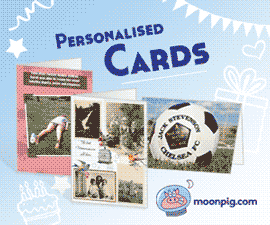 Click Here For Personalised Thank You Cards @Moonpig.com
The best way to get through the chore is to set goals: write two, or five, or ten notes per day. That will allow you to thank everyone within the right time period without having the job hanging over your head forever.
by Shannon
(http//shannonnicolesmith.com/wedding-thank-you-card-wording/)

Click Here For Online Photo Printing Deals at Truprint
baby thank you cards, thank you cards baby, personalised baby thank you cards, baby shower thank you cards, new baby thank you cards, baby thankyou cards, wedding thank you cards, thank you cards wedding, thank you wedding cards, personalised wedding thank you cards, wedding thank you card wording, wedding,thankyou cards, wedding thank you card, thank you cards, personalised thank you cards, photo thank you cards, thank you card, thankyou cards, thank you cards personalised, packs of thank you cards, pack of thank you cards, thank you cards multipack, multipack thank you cards, multi pack thank you cards, thank you card packs, thank you cards packs, thank you postcards, thank you cards amazon, thank you cards ebay, greeting cards, greetings cards, greeting card, greeeting cards uk, greetings card uk
photobox.co.uk, paperchase, notonthehighstreet.com, funky pigeon, moonpig, whsmith, marks and spencer, john lewis